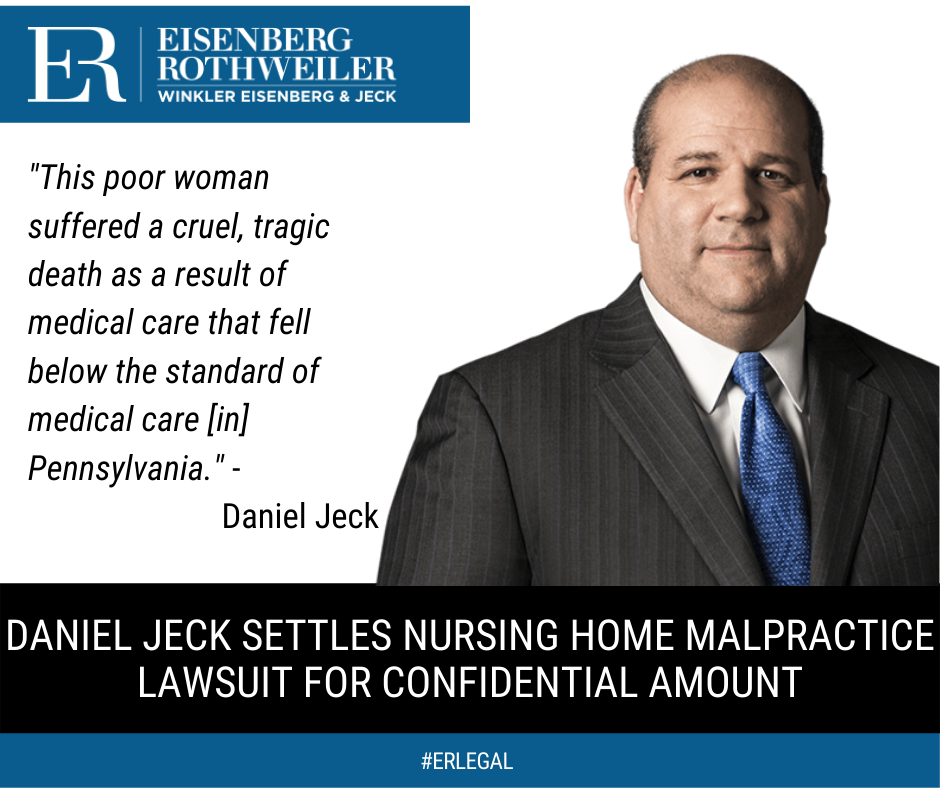 Daniel Jeck recently settled a nursing home malpractice lawsuit in Northumberland County, Pennsylvania, for a confidential amount, arising from a more than two-hour delay to respond to an emergency that caused our client's 74-year-old mother to go into respiratory arrest and eventually die while she was in the defendant's nursing/rehabilitation unit recovering from cancer treatment.
In addition to a failure by the on-call physician to return multiple pages from the nursing supervisor to address a complaint of "can't breathe," and the failure by nurses to order the immediate transfer to an emergency department when the doctor did not return the page, our client's mother suffered an elevated temperature, tachycardia, hypertension, and a precipitous drop in her oxygen saturation rate with an abnormal lung exam in the middle of the night. As a result, she was in agony for two hours, gasping for air as her body was deprived of oxygen and her heart raced to the point of unconsciousness.
If the unexcused negligence by the on-call physician in failing to return a nurse's page(s) wasn't enough, the record in the case demonstrated that no one from the institution returned to check on and re-take vitals or examine her, thus elevating the neglect to a higher, even more, disreputable level. When she was finally re-checked by a nurse, she appeared "ashen" with "agonal breathing." Five minutes later, she had no pulse and was not breathing. She died in the nursing home without any medical resuscitation or intervention.
Our client's mother, a retired assembly line worker at the local factory, was due to return home two days before her death. Her typical day at home was consumed by playing bingo, reading books, socializing with her lady friends, and shopping. She enjoyed spending time with, and was the most revered matriarch of, her family.
"This poor woman suffered a cruel, tragic death as a result of medical care that fell far below the standard of medical care a Pennsylvania nursing home is required to legally provide," said Dan. "Our client and her family hope their lawsuit and this settlement will cause the defendants to change their procedures for responding to patients in distress so never again will a family have to suffer a loss the kind they suffered here."