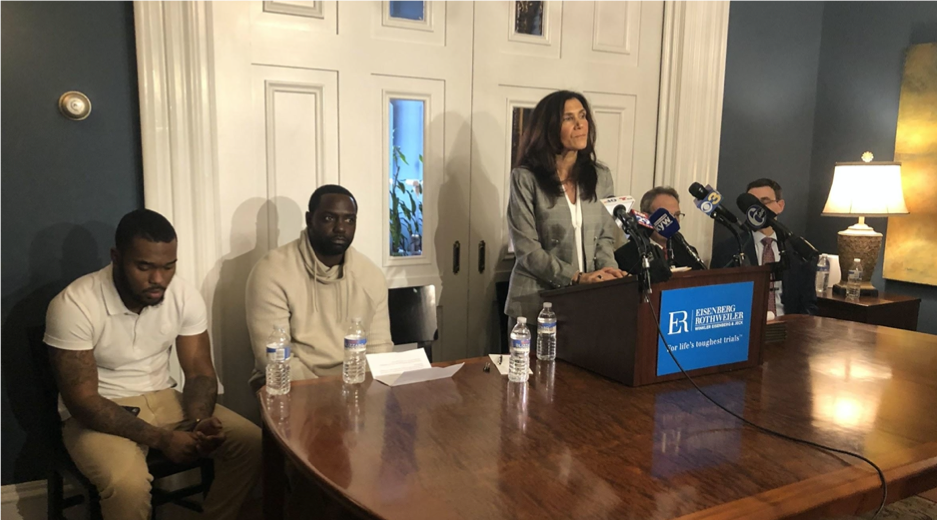 Vicious beatings. Mass sexual assault and rape. Terrifying threats. A pattern of devastating abuse that lasted for decades, leaving hundreds of young men shattered by a school that was meant to be rehabilitating them. Eisenberg, Rothweiler, Winkler, Eisenberg & Jeck, P.C., is fighting to hold Glen Mills Schools accountable, with five new lawsuits filed last week over the horrifying abuse that was allowed to fester at the school for decades.
"The façade outside was a stark contrast to the life inside the walls. Glen Mills was a house of horrors," attorney Nancy J. Winkler told reporters during a news conference last week. She spoke to the media alongside two brave plaintiffs, Laboy Wiggins and Tawfeeq Abdul-Lateef, who gave firsthand accounts of the terror they were forced to endure during their time as students.
Abdul-Lateef, who attended the school in 2016 and 2017, described how he was thrown to the ground, stomped on, choked, spit on, and called racial slurs. Wiggins, who attended the school for about six months in 1987, told reporters that he was both sexually and physically abused multiple times. He eventually ran away to escape the abuse.
"I went there to become a better person. I went there to become rehabilitated," Wiggins told the reporters. "I left Glen Mills a thousand times worse than I came, a thousand times."
Eisenberg, Rothweiler, Winkler, Eisenberg & Jeck, P.C., is representing the five new plaintiffs as well as hundreds of other former students who have come forward about the abuse that occurred at the school between 1976 and 2018. The latest lawsuits add to eight more individual suits that had been filed previously, with more expected.
Read the Latest News
The lawsuits against Glen Mills Schools have captured headlines across Pennsylvania, with major news outlets reporting extensively on the cases:
What Is Glen Mills?
Founded in 1826, Glen Mills was the oldest reform school for boys in the United States before it shuttered operations in April 2019 due to widespread abuse allegations. The school, located on a 700-acre campus southwest of Philadelphia in Delaware County, painted itself as a prestigious school for boys undergoing court-ordered rehabilitation. It had earned a reputation "akin to the Harvard of reform schools," the Philadelphia Inquirer reports.
After news broke of the rampant abuse at the school, the Philadelphia Department of Human Services ordered an "emergency removal" of the students and rescinded the school's licenses. Although most of the staff has been laid off, the school has filed an appeal to gets its licenses back, a move that has angered former students.
What Happened There?
Former students have come forward to report horrifying stories of abuse, sexual assault, emotional abuse, and an extensive coverup. Eisenberg, Rothweiler, Winkler, Eisenberg & Jeck, P.C., is representing more than 300 former students who suffered harm at the school between 1976 and 2018.
Although students reported incidents of abuse to the officials at the school, they say they were met with serious retribution in the form of threats and beatings. School officials told parents who complained about the abuse that their children could be sent to worse institutions where they would be in more danger, the Inquirer reported.
The motive behind the coverup of all these complaints: The school received about $52,000 tuition annually for each student ─ or $40 million in revenues per year, attorney Winkler explained.
In Summary
The irreparable harm that these young men suffered at the hands of Glen Mills Schools staff has had a long-lasting impact on their everyday lives.
"Glen Mills was supposed to help me and get me on the right path. Instead, it seems I went on a detour," Abdul-Lateef said. "Now I have emotional breakdowns and feel like just a failure in life. Glen Mills School took from me the positive light I had as a teenager, and now all that's left is darkness."
Wiggins echoed that sentiment. "In my head, I'm living a nightmare. Every day," he said. "It's hard for me to trust, to be around people, to socialize. Even though when this happened, I was in my teens and now I'm in my late 40s, it's like I lived it yesterday. It hurts like it just happened."
The experienced advocates at Eisenberg, Rothweiler, Winkler, Eisenberg & Jeck, P.C., are helping the former students demand full and fair compensation for the damages they have suffered ─ and will continue to face ─ due to abuse and assaults at the school.
In addition to obtaining justice for the individual students, the firm wants to prevent the school from ever opening its doors again, as well as pushing for reforms in the oversight of such facilities by the state.
"This shouldn't happen to children," Winkler told reporters. "They were all children that were sent there. These boys' lives have been shattered. These men have been broken."
If you or a loved one suffered abuse at Glen Mills School, our firm is here to help. Please contact us today to speak with a compassionate attorney about your legal rights and what types of compensation you may be entitled to receive.