Heart attacks, while scary, can be survivable if caught in time. Unfortunately, heart attacks are often misdiagnosed, especially among women. Patients suffering from heart attacks are often sent home only to suffer more severe heart attacks or other complications. Frequently, a misdiagnosed heart attack is fatal.
If you suffered a misdiagnosed heart attack, you may have been the victim of medical malpractice and deserve compensation for your harm. The medical malpractice attorneys at Eisenberg, Rothweiler, Winkler, Eisenberg & Jeck, P.C., want to advocate for your rights following medical malpractice and help you seek justice from those who harmed you. Our experienced trial attorneys have the resources to build a robust case proving you deserve compensation from liable parties.
Contact our firm today for a free consultation with our heart attack medical malpractice lawyers in Philadelphia, Pennsylvania.
Heart Attack, Misdiagnosis, & Medical Malpractice
Failing to correctly and timely diagnose a heart attack can be medical malpractice, which is a deviation from the accepted standard of care required of licensed physicians by the American Medical Association (AMA).
Misdiagnosis of a heart attack can happen if a doctor fails to run the correct tests to rule out a heart attack when diagnosing health conditions that present similar symptoms, like gastric reflux or respiratory diseases. Misdiagnosis could also result from a doctor dismissing a patient's symptoms as not serious and sending them home instead of treating them. If a patient has lab work or scans completed, misdiagnosis can occur if a doctor doesn't interpret the results correctly, failing to note the arterial blockage or heart attack.
What Causes Heart Attacks?
A heart attack, medically referred to as a myocardial infarction, is caused by a lack of blood flow to the heart. It can occur if a clot in an artery blocks the passageway to the heart, preventing oxygen from reaching the muscle. If the obstruction isn't removed quickly enough, the heart muscle may stop beating and eventually die.
Coronary artery disease often contributes to heart attacks. The U.S. Centers for Disease Control and Prevention (CDC) estimates that more than 800,000 Americans suffer heart attacks yearly.
Heart Attack Symptoms
Common heart attack symptoms include:
Extreme pressure and pain in the chest
Sweating
Dizziness
Stabbing pain in the jaw, chest, or neck
Shortness of breath
Men and women often experience different symptoms of heart attacks. For example, a woman may feel pain in her back instead of her chest, which may lead to misdiagnosis. However, trained medical professionals should be able to spot the signs of a heart attack, even a silent one for which there are few symptoms.
A silent heart attack, or silent ischemia, may not present many symptoms associated with a heart attack, like sudden chest pain. Instead, a person may feel like they have heartburn or indigestion. If you experience a cold sweat, pain in the upper arm or neck and back, or tightness in your chest accompanied by shortness of breath, you should seek medical attention immediately.
What Happens If a Heart Attack Is Misdiagnosed?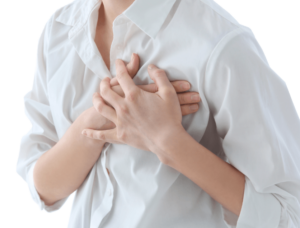 Misdiagnosis of a heart attack can result in lasting complications. For instance, the heart could be permanently weakened, making it less likely that a patient will survive a second heart attack.
The patient could suffer from chronic pain, making it hard for them to work or take care of their home and family.
Often, a misdiagnosed heart attack is fatal. If your loved one died from a misdiagnosed heart attack, consult our experienced medical malpractice lawyers in Philadelphia about filing a wrongful death lawsuit.
Hospital Liability
Defendants in heart attack misdiagnosis malpractice cases aren't always limited to doctors and other medical professionals. A medical facility or hospital that employs a doctor who misdiagnoses a heart attack could be liable for the resulting harm to the patient. A hospital that permits doctors to cut corners when treating patients, or one that is chronically understaffed, could share blame for a heart attack misdiagnosis.
Our experienced medical malpractice lawyers are ready to review your case and determine who could be liable for the harm you or a loved one suffered due to a heart attack misdiagnosis.
Filing a Lawsuit if a Heart Attack Is Misdiagnosed
Complications of an undiagnosed heart attack can result in life-changing disabilities that require extensive medical care. For instance, you may need surgery that could have been avoided had the initial heart attack been diagnosed and treated promptly, or you may no longer be able to participate in activities you enjoyed before the misdiagnosis. Additional medical treatment can be costly and continue throughout your life. Complications due to a misdiagnosed heart attack could severely limit your earning potential, not to mention causing physical pain and emotional trauma.
A medical malpractice lawsuit could allow you to pursue the compensation you deserve for your medical bills, lost wages, and other losses you suffer. Our heart attack malpractice attorneys in Pennsylvania can evaluate your case and determine whether you could be entitled to file a medical malpractice lawsuit to seek financial relief and accountability from those who harmed you.
Doctors, hospitals, other responsible parties, and their insurers usually fight hard to deny liability for injuries and losses resulting from misdiagnosed heart attacks. Our experienced medical malpractice attorneys can gather crucial evidence to build a solid case proving that medical malpractice occurred and that you deserve compensation. The experienced trial attorneys at Eisenberg, Rothweiler, Winkler, Eisenberg & Jeck, P.C., have the knowledge and resources to fight for your rights and interests and help you seek maximum financial relief.
You Need Our Heart Attack Malpractice Lawyers
If you or someone you love had a heart attack that a Pennsylvania healthcare provider misdiagnosed, you may have the right to pursue compensation from the doctor, hospital, or other liable parties.
The legal team at Eisenberg, Rothweiler, Winkler, Eisenberg & Jeck, P.C., helps injury victims in Pennsylvania through life's toughest trials. We have recovered over $4 billion for our deserving clients in various matters, including some of the most complex medical malpractice cases. We stand ready to work tirelessly to help you seek the justice and financial relief you deserve.
Contact our heart attack malpractice lawyers today for a free, no-obligation consultation that's absolutely confidential.