When a surgical procedure goes wrong and a patient suffers catastrophic harm, it's possible the surgeon or another healthcare provider could be held liable through a medical malpractice lawsuit. However, determining whether medical negligence caused the surgical error requires a careful analysis by an experienced lawyer. The Philadelphia medical malpractice attorneys at Eisenberg, Rothweiler, Winkler, Eisenberg & Jeck, P.C., can help.
Our Pennsylvania personal injury law firm has recovered over $4 billion in compensation for our deserving clients, including many multi-million-dollar verdicts for victims of medical malpractice. Put us to work for you. Contact us today for a free consultation with a medical malpractice lawyer in PA.
What Are Surgical Errors?
A surgical error is a preventable injury that occurs during surgery. According to the National Institutes of Health (NIH), surgical errors fall outside of the category of acceptable risks that accompany surgery. These are mistakes that could have been avoided if providers adhered to proper protocols.
Many surgeries are inherently risky and carry the possibility of complications, which is why patients sign consent forms before these procedures. A consent form outlines the known risks associated with the surgery, and by signing, the patient acknowledges their awareness of these risks and indicates their consent to undergo surgery.
However, surgical errors are not known risks. These errors are unexpected occurrences. Yet, whether due to commission (wrong action taken) or omission (no action taken), surgical errors can have catastrophic results for patients and their families.
Leading Causes and Contributing Factors to Surgical Errors
Surgical errors often occur due to:
Lack of training – A surgeon who lacks proper training but attempts to perform a procedure can commit catastrophic errors.
Poor preparation – A surgeon or facility that is short-staffed, behind schedule, or unfamiliar with a patient's condition is unprepared to perform a surgical procedure properly. For example, an error can occur if necessary surgical instruments are unavailable or the surgeon rushes through an operation.
Fatigue – Surgeons and medical staff often work long hours. Exhaustion, inability to focus, and slow reaction times can lead to mistakes with long-lasting consequences for a patient.
Substance use – A medical professional working under the influence of drugs or alcohol is more likely to commit a surgical error. Their work may be less precise, and their impairment may impair their judgment and reaction time.
Lack of communication – The failure of doctors and staff to communicate with each other and the patient can result in serious surgical errors. These errors include administering incorrect medications, using improper equipment, or operating on the wrong surgical site. Several malpractice cases have stemmed from surgeons not listening to operating room staff about biopsy results and the location of proper surgical sites.
Failure to monitor the patient – Complications such as internal bleeding, infections, and loss of vital signs can arise when surgeons and staff fail to monitor a patient's condition during and after surgery.
One analysis of surgical errors in malpractice claims found that 31 percent of these cases involved errors occurring in multiple phases of care, including before, during, and after surgery. Most medical malpractice cases in hospitals involve surgical errors.
Common Errors on the Operating Table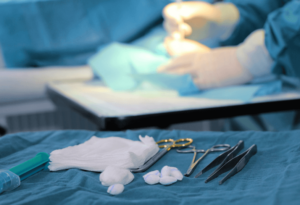 Surgeries can go wrong for various reasons. Some of the most common errors on the operating table include the following:
Improper administration of anesthesia
Wrong-patient surgery
Wrong-site surgery
Harming healthy body parts during surgery
Leaving medical instruments or other foreign objects inside the patient
Failure to address complications during surgery
Failure to monitor the patient following the operation
If you or a loved one suffered complications from an error during surgery, speak with a medical malpractice lawyer in PA immediately.
The Consequences of Surgical Errors
Surgical errors can have tragic ramifications. They can result in life-changing injuries and medical complications that expose patients to additional risks, including death. Some of the most common injuries from medical errors include:
Permanent scarring or disfigurement
Internal bleeding
Hemorrhage
Organ damage
Nerve damage
Brain damage
Infection
Amputation
Disability
Paralysis
Death
In addition to the physical effects of surgical errors, many patients experience emotional and psychological aftereffects, including anxiety, depression, or post-traumatic stress disorder (PTSD). Their families may also suffer due to the experience of witnessing a loved one go through significant physical and emotional trauma.
Proving Liability for Surgical Malpractice
Proving liability for surgical malpractice requires proof of negligence. The patient must demonstrate:
The medical professional had a duty to care for the patient.
The provider failed to perform the surgery the way another similarly trained healthcare provider in the same specialty would have done under the same circumstances.
The negligent failure caused injury to the patient.
The patient experienced damage or loss resulting from the injury.
At Eisenberg, Rothweiler, Winkler, Eisenberg & Jeck, P.C., our experienced trial attorneys will gather and preserve crucial evidence to prove liability for surgical malpractice. Potential evidence could include:
Medical records, including records of additional medical treatment required due to the malpractice
Expert testimony
Witness statements
Hospital records
Photos of injuries resulting from the malpractice
Medical bills, hospital statements, and records of other losses
Contact an Experienced Malpractice Lawyer to Start Your Medical Malpractice Lawsuit
If you or a loved one suffered harm from a surgical error, you need an aggressive and compassionate legal team to help you seek justice. The Philadelphia medical malpractice lawyers at Eisenberg, Rothweiler, Winkler, Eisenberg & Jeck, P.C. help individuals pursue the financial relief they deserve after suffering horrific harm at the hands of negligent medical providers.
Winning a medical malpractice lawsuit requires impeccable preparation, extensive trial experience, and an attorney with the skills and resources to build a solid claim that delivers maximum compensation to their clients. Our firm has a track record of recovering over $4 billion in compensation for clients throughout Pennsylvania.
You don't have to face this difficult time alone. For life's toughest trials, turn to Eisenberg, Rothweiler, Winkler, Eisenberg & Jeck, P.C. Contact our office today for a free, confidential consultation with a medical malpractice attorney in Pennsylvania.