Can I File a Civil Lawsuit as a Crime Victim?


Crimes like assault and drunk driving have the potential to cause serious injuries to innocent victims. In these cases, a criminal lawsuit may bring the at-fault party to justice and prevent future injuries. However, criminal proceedings do not provide compensation for injury victims, who may then face costly medical bills, including ongoing therapy and treatment for emotional distress. Lost wages and property damage can also contribute to crime victims' economic hardships. If you or a loved one sustained injuries due to a crime, then you may be able to collect compensation for these damages through a personal injury lawsuit. Depending on the unique circumstances of the case, the liable parties may include the establishment where the crime occurred, property owners, security companies and/or government entities, in addition to the offender.
At Eisenberg, Rothweiler, Winkler, Eisenberg & Jeck, P.C., our attorneys handle a wide variety of civil rights issues, including injury claims brought by crime victims. We can fight by your side to ensure you pursue justice and fair compensation for your injuries. A Philadelphia personal injury lawyer from our firm can investigate the crime to find all liable parties. We offer free, confidential consultations so you can learn your legal options and get answers to your questions with no obligation.
When Can a Crime Victim File a Personal Injury Lawsuit?
Many different types of crimes may cause serious physical and psychological injuries to victims and bystanders.
Some of the most damaging injuries result from crimes such as:
Criminal attacks can cause catastrophic personal injuries which may result in permanent impairment or wrongful death. If an assault occurs on commercial property, such as in a bar or hotel, then the property owner may be liable for the damages due to inadequate security.
Victims of sexual assault may suffer physical and psychological injuries, some of which may last a lifetime. This is particularly true in cases involving child sexual abuse. Our personal injury attorneys have experience seeking justice for victims of child abuse in daycare centers, Devereux Advanced Behavioral Health Center, and Boy Scout troops.
Driving under the influence of alcohol is illegal, so drunk drivers may face criminal charges after an accident. However, victims of drunk driving accidents must seek compensation through a personal injury lawsuit. Depending on the circumstances, parties other than the driver, such as an alcohol vendor, may also be liable for your injuries and damages.
Excessive force and police brutality are civil rights violations that can cause serious injuries and even wrongful death. However, these kinds of claims can be difficult, as the liable party is typically a government entity. Our personal injury attorneys have experience with these types of lawsuits.
These are among the most common examples of intentional torts that may be the basis for a personal injury lawsuit. Still, you may be able to file a civil claim for injuries sustained from virtually any crime.
"Nancy, thank you so much for your constant caring, support and friendship. We truly appreciate everything you have done for us. You are such a treasure and we are blessed to have you in our life. Thank you."
— Fred & Ella (Peg) Hettinger
"Stewart and Brian, we feel as though a great weight has been lifted from our lives. During this process we got to meet two great lawyers and people who will forever be a part of our lives. This family thanks you again for giving us back our lives."
— Marvin Harris and Stephanie Jones
"Ken and Dan are at the top of their profession. Not only are they skilled and astute litigators but they are also great people—full of integrity and respect. From start to finish I was impressed with their dedication to our case."
— Jane K.
Read all Testimonials
What Damages Can I Seek in a Personal Injury Lawsuit for a Crime?
Many different types of crimes may cause serious physical and psychological injuries to victims and bystanders. Some of the most damaging injuries result from crimes such as:

Medical expenses.
This includes the cost of emergency treatment and ongoing care for crime-related injuries.

Expenses for psychological injuries.
Crime victims often experience psychological and emotional trauma, such as post-traumatic stress disorder (PTSD). These conditions may last for months or years, severely impacting the victim's life. Damages from a civil claim may therefore include the cost of therapies and psychological treatment.

Pain and suffering.
In some circumstances, crime victims may recover additional compensation for physical and/or emotional pain. This may include loss of enjoyment of life due to psychological trauma and loss of consortium, if the victim's relationships with family members are affected.

Lost income.
After a crime-related injury, you may be unable to return to work for some time. A civil lawsuit can compensate you for your lost wages during this time.

Property damage.
In cases involving drunk driving accidents and violent crimes, you can claim the cost of your damaged property.

Punitive damages.
Generally, a criminal lawsuit punishes the offender and a civil personal injury lawsuit compensates the victim. However, the court may also award punitive damages to the victim in a civil claim as an additional way of punishing the offender.
Multiple parties may be liable for a crime in addition to the offender. For example, property owners must take steps to ensure their guests are reasonably safe; inadequate or negligent security may fail to stop an assault or other crime. A Philadelphia personal injury attorney can help uncover all possible liable parties to maximize your chances of a fair recovery.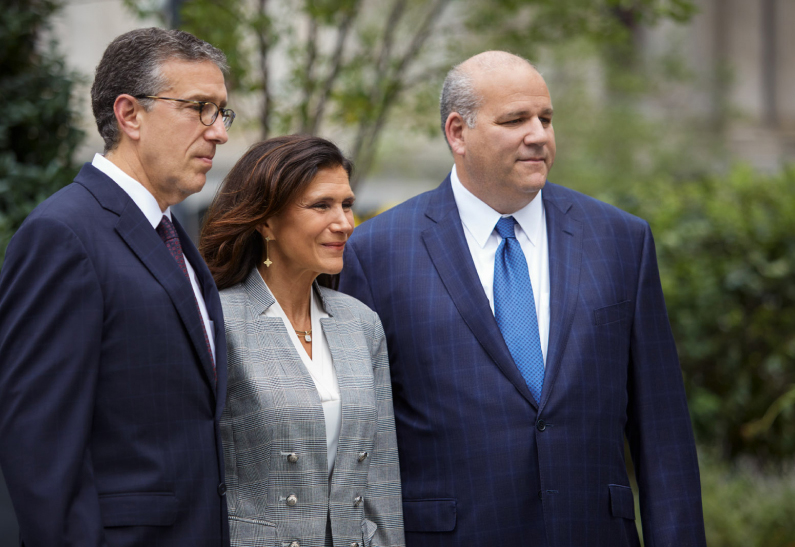 Hurt by a Crime or Civil Rights Violation? Contact a Philadelphia Personal Injury Lawyer
If a crime caused your injuries or a loved one's wrongful death, then you may be entitled to compensation through a civil claim. Our Pennsylvania personal injury attorneys have experience representing injury victims in crime-related lawsuits. We can help you get full and fair compensation after a drunk driving accident, assault or other crime.
We have offices in Philadelphia, Pennsylvania and Cherry Hill, New Jersey, and represent clients nationwide. Call (215) 585-2814 or contact us online to schedule a free initial consultation today.