Philadelphia Motor Vehicle Accident Lawyer


According to the Centers for Disease Control and Prevention (CDC), more than 2.5 million Americans are injured or killed in motor vehicle accidents every year. These accidents may include any kind of vehicle and can result from any number of causes. These include careless or reckless drivers, someone driving under the influence of alcohol or drugs, or possibly trucking company negligence. Sometimes a safety defect in the design of an automobile or another vehicle is to blame. Regardless, if negligence of any kind contributed to your car accident injuries, you may be entitled to compensation for your medical bills and other expenses.
The aftermath of any kind of crash is stressful, confusing, and often painful, especially if you or a loved one sustained serious injuries. However, you do not have to face persistent insurance companies and/or a personal injury lawsuit alone. The personal injury attorneys from Eisenberg, Rothweiler, Winkler, Eisenberg & Jeck, P.C. can stand up for your rights while you recover. We have a history of success with cases involving motor vehicle accidents. For example, we won a $10.5 million verdict for a woman who was "buried alive" when her vehicle collided with a dump truck filled with sand. We also obtained a settlement of $10 million on behalf of a high school student who suffered severe and permanent spinal cord injury in a rollover accident.
Do I Need an Attorney After a Traffic Collision?
After a motor vehicle accident, it is likely that you will file a claim with an insurance company. Depending on the vehicles involved, this may be the at-fault driver's insurance provider or a trucking company's insurance. You may even file an uninsured or underinsured motorist claim (UM/UIM) with your own provider. An insurance claim should provide you with compensation for medical bills, wage loss, and other damages.
However, the reality is, insurance companies do not prosper by freely paying claims, but by limiting and denying them. In order to ensure you are getting the full amount you deserve, it is important to have an experienced auto accident attorney protecting your rights. A lawyer's advice can be extremely helpful, even for claims involving the most seemingly straightforward auto accidents. A qualified attorney, like those at our law firm, will have the legal knowledge and experience necessary to ensure you get a fair offer.
Sometimes, even after negotiations, the insurance company may refuse to make you a reasonable offer. In this case, your auto accident attorney can help you file a personal injury lawsuit instead. Above all, an auto accident attorney is on your side and will have your best interests at heart. If a personal injury lawsuit is best for your case, your lawyer will tell you and will help you fight for your rights in court.
"Nancy, thank you so much for your constant caring, support and friendship. We truly appreciate everything you have done for us. You are such a treasure and we are blessed to have you in our life. Thank you."
— Fred & Ella (Peg) Hettinger
"Ken and Dan are at the top of their profession. Not only are they skilled and astute litigators but they are also great people—full of integrity and respect. From start to finish I was impressed with their dedication to our case."
— Jane K.
"Stewart and Brian….You gave my father a chance to fight for his legal rights ….Your efforts have saved many patients from having to face the crippling injury that my father suffered. You did a wonderful, generous thing."
— Mark Pelligrini
"Nancy, Linda and the firm have always taken such good care of me and my husband. This was such a scary and difficult time you guys helped us through."
— Glenda Perry
Read all Testimonials
What are the Most Common Types Motor Vehicle Accidents?
Auto accidents can involve any vehicle or even pedestrians walking alongside the street. Some motor vehicle accidents, such as truck accidents, often result in more serious injuries than other types of crashes. However, all collisions can cause permanent, disabling injuries or even wrongful death. Some of the most common types of motor vehicle accidents we handle at our law firm include:
Pedestrian Accidents
Drunk Driving Accidents
Bicycle Accidents
Public Transportation and Mass Transit Accidents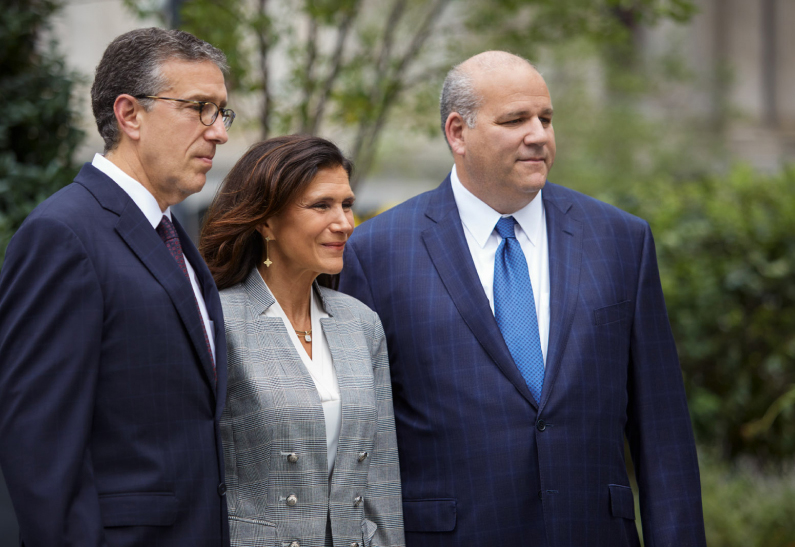 Call a Local Philadelphia Attorney Today for a Free Consultation
If you or a loved one were injured in a traffic collision, our personal injury law firm is here to help. Contact us today to speak with a knowledgeable Philadelphia auto accident attorney. We offer free initial consultations and handle cases on a contingency fee basis. This means you pay nothing unless we get results for you.