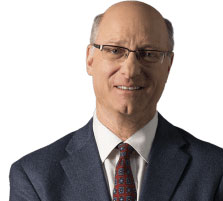 Daniel Craig and Carly Gubernick, two third-year students at Temple University Beasley School of Law, were recently named the school's 2020–2021 Stewart J. Eisenberg Scholars. The scholarship, endowed by our own Stewart Eisenberg, is given annually to the Temple Law students who are most outstanding in trial advocacy.
"What was then the Temple University School of Law provided me the foundation upon which I have enjoyed a rewarding four-decade career as a trial lawyer," said Eisenberg, who graduated from the school in 1980, served on the Temple Law Review, and received the Barristers Award for Excellence in Trial Advocacy. Post-graduation, he has served as an adjunct professor at the law school teaching Introduction to Trial Advocacy to second-year law students. "As a proud member of the law school alumnae, I am honored to offer a scholarship that supports and recognizes those Temple Law students who strive to become members of the next generation of great trial lawyers."
Craig expects to graduate from Temple Law in May 2021. In addition to being named an Eisenberg Scholar, Craig is a Beasley Scholarship Program participant and a member of Temple Law's national trial team.
During law school, Craig has been a law clerk at McEldrew Young Purtell Merritt, a legislative intern for Philadelphia City Councilwoman Helen Gym, and a process risk assurance experienced associate in Philadelphia Legal Assistance's unemployment compensation unit.
Gubernick expects to graduate from Temple Law in May 2021 with a certificate in trial advocacy and litigation. In addition to being named an Eisenberg Scholar, Guberinck was named a Law Faculty Scholar, received transcript honors for "Best Paper," "Distinguished Class Performance," and "Outstanding Oral Advocacy," and is on the staff of the Temple Law Review.
During law school, Gubernick has been a summer associate at Ballard Spahr LLP and a judicial intern in the chambers of U.S. District Judge Mitchell S. Goldberg of the U.S. District Court for the Eastern District of Pennsylvania. Prior to entering law school, Gubernick was a product manager at Medline Industries, Inc., a healthcare business providing clinical solutions, medical supplies, and strategies that help health systems run better.