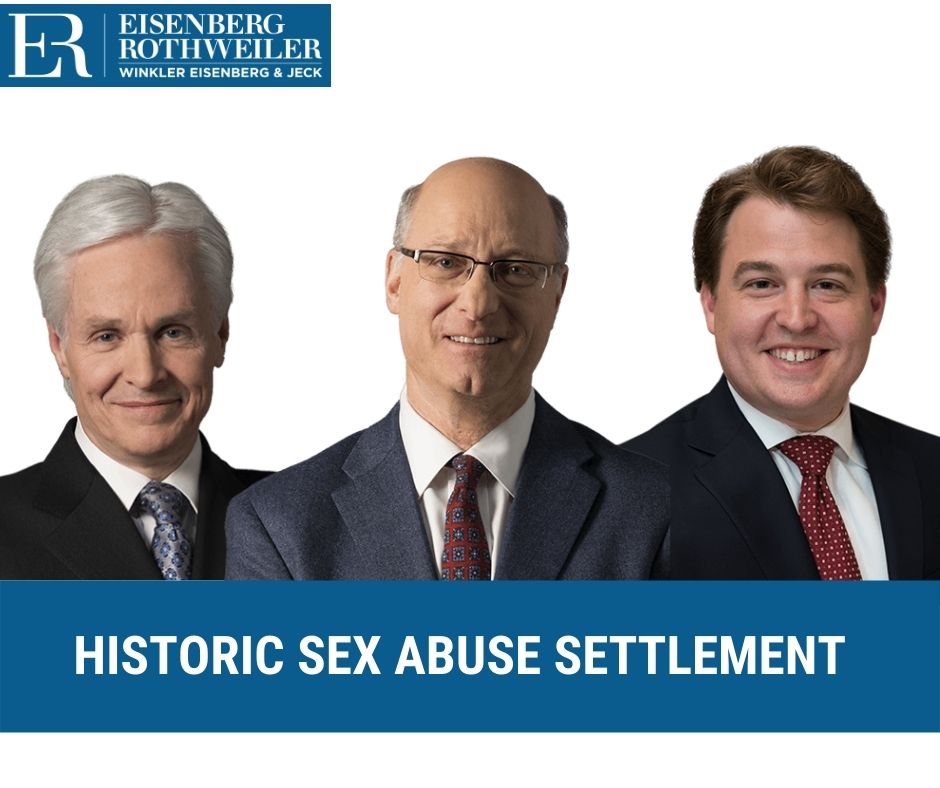 On September 14, 2021, survivors of sexual abuse at the hands of the Boy Scouts of America ("BSA") announced they had settled claims against one of the BSA's insurers, Hartford Financial Services Group, for $787 million, and one of its chartered organizations, The Church of Jesus Christ of Latter-day Saints, for $250 million.
These settlements, totaling $1.037 billion, come on the heels of the record $850 million settlement the survivors reached with the BSA and its local councils this past July.
And just like in July, Ken Rothweiler, a co-founder and senior shareholder of Eisenberg Rothweiler, was at the center of this most recent round of settlements.
Ken, along with Stewart Eisenberg and Josh Schwartz, represents more than 16,000 of the approximately 82,000 survivors covered by the settlements—the largest group of survivors represented by any single law firm. Ken is co-founder of the Coalition of Abused Scouts for Justice, which is made up of 27 law firms who collectively represent those 82,000 survivors.
Ken serves as one of three lead settlement negotiators on behalf of the survivors because of the number of survivors Eisenberg Rothweiler represents and the firm's long history of fighting on behalf of sex abuse survivors.
With more than $1.88 billion in settlements secured for survivors of the BSA's sexual abuse, Ken remains undaunted in his mission to secure even more settlements for the tens of thousands of survivors who seek to hold the BSA accountable for its actions and those of its representatives.
Many media outlets covered this second round of settlements and Ken's role in it, including Delaware Law Weekly/The Legal Intelligencer, the Deseret News, the New York Post, and the Wall Street Journal. This is on top of the many media outlets that covered the first settlement and Ken's role in it, including Axios, Bloomberg Law, the BBC, Delaware Law Weekly/The Legal Intelligencer, NPR, Newsweek, the New York Times, the Wall Street Journal, the Washington Post, The Week, and USA Today.
In addition to battling the Boy Scouts, child sexual abuse attorneys at Eisenberg Rothweiler have successfully taken on other powerful institutions such as The Church of Jesus Christ of Latter-day Saints and the Roman Catholic Archdiocese throughout the Commonwealth of Pennsylvania, and the states of New Jersey and New York. The firm has the legal experience and the extensive resources needed to aggressively advocate on behalf of survivors, and has earned a reputation for its strong advocacy on behalf of survivors of childhood sexual abuse.