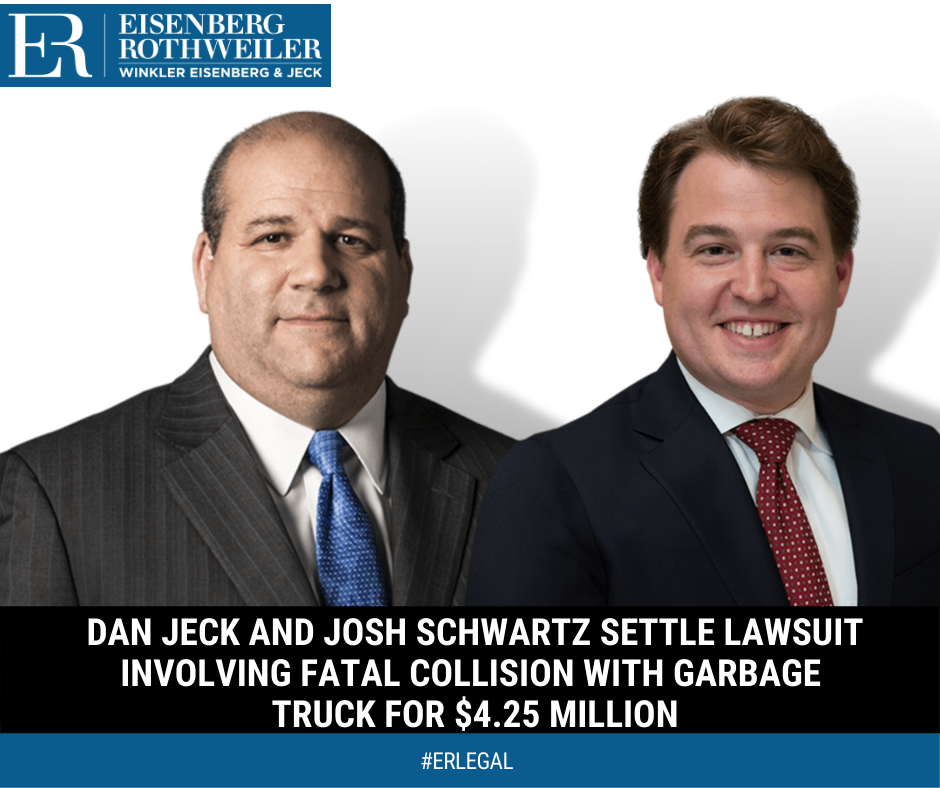 Daniel Jeck and Joshua Schwartz recently settled a case at mediation for $4.25 million against a trash hauling company and its parent corporation arising from a fatal automobile accident in which our client's wife collided into the rear of defendants' 66,000 lb. garbage truck that had just broken down on a highway. Our client's wife succumbed to her injuries caused by the accident.
Based on data obtained from the truck's black box, Dan and Josh proved the truck's engine malfunction light was illuminated well before the accident, and thus should not have been on the road.
Through further discovery and deposition testimony, Dan and Josh uncovered the fact that the truck had been experiencing reduced engine power or repeat engine failure for weeks prior to the accident. The root cause of these issues, however, had never been established or definitively repaired.
Dan and Josh additionally proved that the defendants violated the law by failing to accurately complete a Vehicle Condition Report which would have informed the truck's driver about any recent maintenance issues so he could have confirmed repairs. They also proved there were financial disincentives (in the form of maintenance bonuses) to keeping trucks out of service until they were fully repaired.
The defendants argued our client's wife was distracted and should have been able to see, appreciate, and avoid the broken-down truck in broad daylight. Dan and Josh, with the testimony of fact witnesses, refuted this comparative negligence argument.
Our client's wife, who worked in sales for two different companies, was only 49 years old when she tragically died in this preventable accident. She is survived by her husband, son, and young daughter.
"This was a senseless tragedy that could have easily been avoided had the defendants properly maintained the garbage truck or kept it off the road in its current state of disrepair," said Dan. "While our client will never get his wife back and his children will never get their mother back," noted Josh, "our client can rest assured that the parties responsible for the death of his wife were held accountable for their actions."